Endirek is a special-design street furniture. As human ergonomics and technology were prioritized for the design, it can be easily integrated with the new technological products.
Endirek, which is very easy to transport, install and store thanks to its modular structure, is the first product in the field of green energy in technology. It is patented and produced with domestic resources.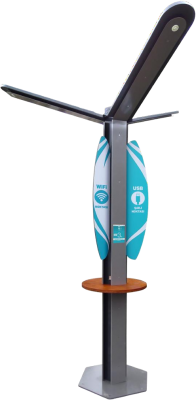 Environment-friendly
Produces 240 Watts of energy
Converts solar energy into internet and charging service
Allows charging for up to six people at the same time
The three LED lights on Endirek provide micro-lighting, even when the city's energy is cut off.
The product continues to serve in emergencies as an assembly point.
Thanks to its charging, micro-lighting and internet features, the Endirek can be considered an Emergency Assembly Point.
Technological Support for the Fight Against Covid-19
Smart City, Smart Hygiene Point
Endirek is also used as a hygiene point. It can be positioned in parks, gardens, town squares, campuses and beaches without any need for excavation.
Solar Energy
Suitable for Outdoor Environment
Industrial Sensor
Remote Warehouse Status Monitoring
Have Us Call You
We will be delighted to guide you in your digital journey. Contact us for our products, company and more.