Kryptos allows you to protect your valuable files by encrypting them, as they can only be opened and read by entering the password of the Kryptos owner. Moreover, it does not care about where your files are located (local disk, network, cloud, etc.); instead, it shows your files unencrypted with the Virtual Disk (SafeBox) it opens and allows you to take action.
When Kryptos is disconnected, the Virtual Disk is not visible and your files remain encrypted in their original location. With Outlook integration, Kryptos provides users with quick, easy and secure file encryption and sharing.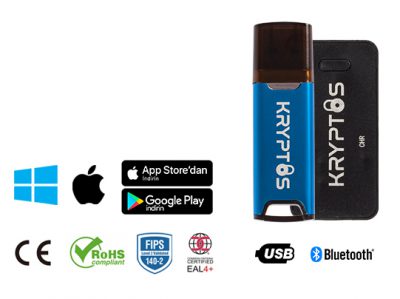 Kryptos runs through the local folder managed by your cloud storage provider's sync client. Since it is cloud-independent, it integrates seamlessly with any cloud provider.
Why do you need data encryption?
As cloud storage services become the norm, data security remains a growing concern for businesses. It is clear that cloud storage services are not as secure as public or private storage. By encrypting your data, you can add a layer of protection before syncing them with the cloud.
But who will hold the keys? No matter what security measure you have in place, you can never be completely sure where your data will end up when someone else gets hold of the keys.
Kryptos separates data stored in Dropbox, Google Drive or your private cloud and the encryption keys needed to access it.
EU-GDPR and KVKK Compliance
According to the EU-GDPR and KVKK, Kryptos is considered to be an "appropriate technical and organizational encryption measure" for the protection of personal data.
Have Us Call You
We will be delighted to guide you in your digital journey. Contact us for our products, company and more.